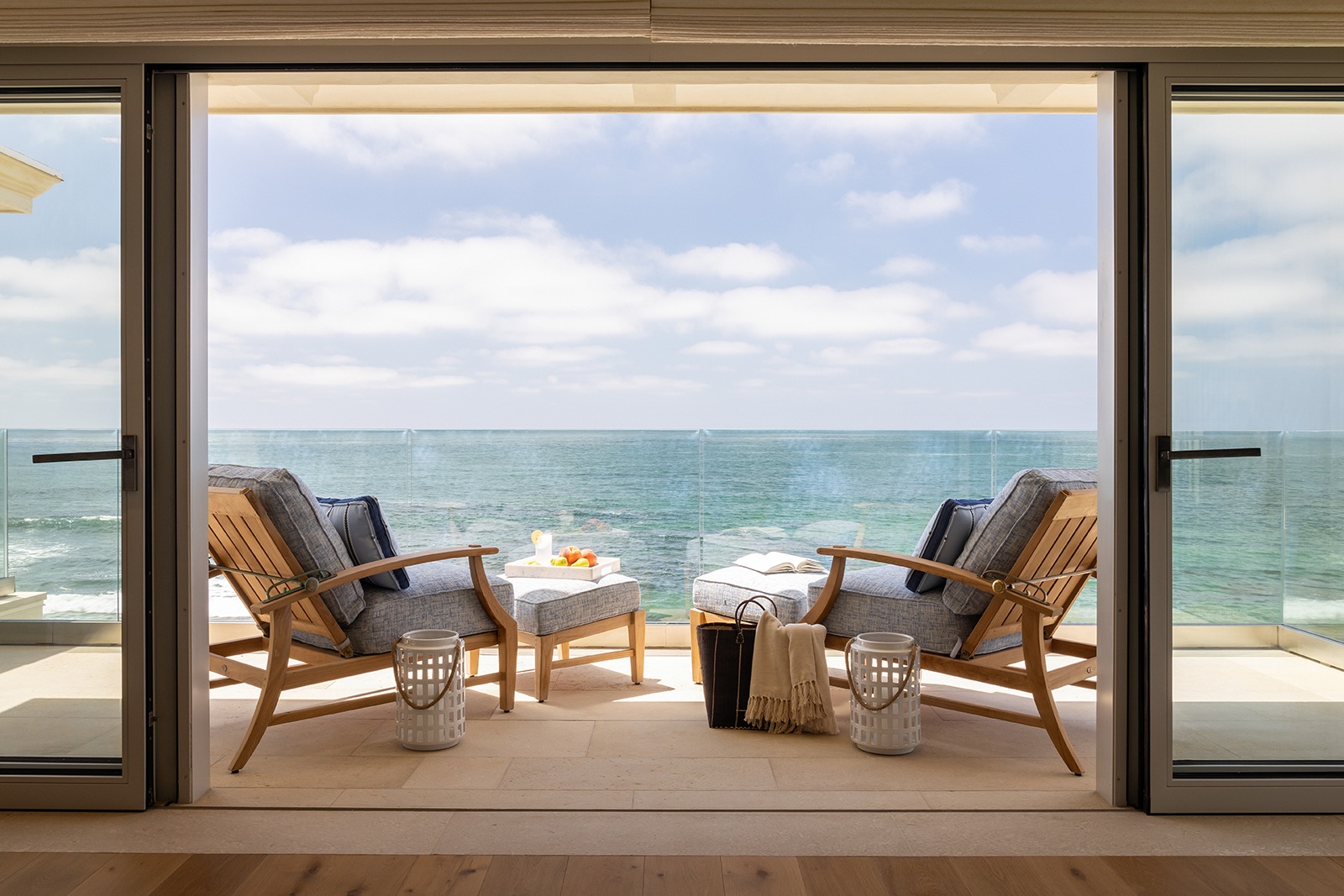 Anyone who's visited La Jolla has surely fallen in love with its sweeping vistas and eclectic charm. Once you've decided to pursue the dream of owning La Jolla real estate, the first step is to determine which neighborhood is right for you. More than a dozen distinct areas comprise the city of La Jolla, each with its own personality, prestige and style of home. La Jolla homes vary widely in architecture, exclusivity, price and the availability of spectacular views.
What items are encompassed by your list of La Jolla real estate "must-haves?" Perhaps your lifestyle requires the shortest possible walk to and from the pictureesue California beaches. If your budget is conservative, a number of older tract homes are available, as well as condominiums and cozy cottages set on small lots. Other La Jolla neighborhoods offer easy access to freeways, to shorten your commute and make shopping more accessible.
Available La Jolla homes for sale range from the small and charming to the lavish and sprawling. If money is no object, you'll be delighted with the La Jolla homes offering spectacular ocean views and fabulously manicured landscaping. For the ultimate experience, imagine your home set on the crest of a cliff with panoramic ocean views in a truly exclusive neighborhood.
Of all the neighborhoods in La Jolla, the homes in La Jolla Farms are truly magnificent. Situated on the cliff's crest, grand custom estates offer phenomenal ocean views and expansive lot sizes. Imagine watching the sunset in all its glory from the comfort of your own living room as you relax and enjoy a cocktail. La Jolla real estate in La Jolla Farms is pricey with many homes valued at more than $3.5 million, but completely worth the investment if you want to feel as though you "live" on vacation.
The "Farms," as it is affectionately called, covers a geographic area of approximately 200 acres on the northern boundary of La Jolla. Access to the semi-private Blacks Beach is provided to all La Jolla Farms residents. The "Farms" is adjacent to Torrey Pines State Park and the Torrey Pines Golf Course, which is included on the PGA tour.
Nearly as spectacular and slightly more affordable is the neighborhood known as Country Club. As the name suggests, the La Jolla Country Club and Golf Course is located in this area, offering numerous opportunities to release the stress of the workday, get together with friends for some friendly competition or meet up for a relaxing lunch. Classic and modern La Jolla homes are prevalent in this exclusive area, many complete with glittering ocean views and convenient access to the shops and restaurants of the village.
If "life is a beach" then the perfect place to live must be La Jolla Shores. The neighborhood has an easy holiday beachside feel, with just a short stroll to the sand or shops and fine restaurants from many homes. Seaside cottages are prevalent here, mainly older custom homes built in the 1950s and 1960s. The local beach is outstanding for swimming, surfing, scuba diving, boating, picnicking and beach sports, and is known as the safest beach in La Jolla . Additionally, La Jolla Shores offers an inviting business district, with specialty shops, fine dining and professional services. Hillside enclaves of La Jolla Shores include magnificent residences on Calle del Oro, Whalewatch Way, and in 'Montoro,' with world-class views to La Jolla Cove, the Village, open sea, and the rugged cliffs and whitewater of the North Shore heading to Dana Point.
Equally desirable as La Jolla Shores for surfers and beach lovers is the charming neighborhood known as the Beach-Barber Tract. La Jolla real estate in Beach-Barber Tract offers convenient beach access, varied home styles and an array of shops and restaurants. WindanSea beach offers outstanding surfing conditions and has gained international recognition, but is not suitable for inexperienced swimmers. Home prices in this area range from just under $1 million to more than $3 million for an oceanfront residence. One-bedroom condos are far more affordable, just two blocks from the beach.
Upper and Lower Hermosa are also popular with families, recreational runners, walkers, and shore lovers. Lower Hermosa features Camino De La Costa, translated as "The Street of Dreams," which runs alongside the ocean for a spectacular drive. This neighborhood is exclusively residential, featuring landscapes painted with sandy beaches and picturesque cliffs, with non-oceanfront homes selling for just under $2 million. Upper Hermosa is slightly less expensive, as it is situated further from the seaside, yet closer to nearby neighborhood restaurants and specialty shops. Local bike paths make Upper Hermosa ideal for families and couples who enjoy an active outdoor lifestyle. Similarly, Bird Rock, with many of its post-war homes undergoing renovations and re-building, is family-oriented, with an excellent neighborhood school, local shops, dining options, Tourmaline Beach and a number of local parks.
If easy access is what you're after in your La Jolla real estate, you'll love the convenient location of La Jolla homes for sale in North La Jolla, the Village and Hidden Valley. All three areas offer expedient travel routes to freeways, shopping, and the University of California, San Diego. Designed for people on the go, residences in North La Jolla are largely comprised of condominiums selling as low as $400,000, as well as a variety of homes priced under $2 million.
The Village dates back to 1888 as an early seaside vacation home area, but today the Village is a thriving local hotspot, peppered with casual and trendy restaurants as well as unique shops. The neighborhood known as Hidden Valley is appropriately named for its luxuriant valley featuring single-story and two-story homes set on gorgeous properties. Ocean view properties are available for $2 million and some 2,000 square foot homes may be found priced right at $1 million. Hidden Valley offers a convenient pedestrian bridge, providing access to La Jolla Shores.
On the hillside of La Jolla, you'll find Muirlands and Muirlands West. No condos are available in this area, but if you're in the market for an exclusive home on a substantial lot, you'll have plenty to choose from in this section of La Jolla. Many multi-million dollar homes are found in Muirlands, but superb value can be had in the range of $2.5 million. It's hard to believe these lots sold for as little as $1,500 each during the 1930s. Muirlands West has a more family feel to it, with wider streets and schools within walking distance from many homes. Beautifully remodeled La Jolla homes for sale in Muirlands West may be found in the range above $1.5 million, many with nicely sized lots.
La Jolla Mesa is positioned on the sunny southern slope of Mount Soledad and features outstanding views of the San Diego skyline as well as Mission Bay, Mission Beach and Pacific Beach. Expect to pay over $1.8 million for La Jolla Mesa homes, and substantially more depending on the views.
La Jolla Alta is situated just east of La Jolla Mesa, also on the sunnier side of La Jolla. You'll find many gems in this area featuring dazzling views of San Diego, Mission Bay and the Pacific Ocean. Newer homes can be found here (as opposed to the older homes prevalent throughout La Jolla real estate), with many La Jolla Alta homes built in the 1980s. This area is one of the most affordable of La Jolla , with homes for sale as remarkably low for 3000 square feet. Additionally, Crystal Bay and Ventana condos offer superb value condos for these newer condominiums offering an array of outstanding amenities to residents.
Last but certainly not least is the neighborhood of Soledad South, located in the southeastern-most corner of La Jolla. Outstanding views can be found in Soledad South , ranging from city views to ocean views to everything in-between. Homes built in the 1950s, 60s and 70s are available. The lovely gated communities of Windemere, Ridgegate, and Mount La Jolla are available in Soledad South and condos developed in the early 1970s sell for under $1 million.
Perhaps the most affordable La Jolla real estate in a convenient location can be found in La Jolla Heights, La Jolla Alta and Soledad South. La Jolla Heights homes are very popular, mainly consisting of single family detached homes built in the 1960s or later. Hillside homes with views of a Mediterranean flavor are priced starting at approximately $2 million. La Jolla Heights also features easy freeway and university access, as well as affordable condominiums for sale.
No matter which neighborhood you select, you'll want to partner with an experienced and knowledgeable La Jolla REALTOR®. Greg Noonan has nearly 30 years of experience, and has effectively assisted in smooth real estate transactions totaling more than $1 billion. Greg is a licensed REALTOR® and broker, and has been nationally recognized by Prudential for his excellence in service and impressive results. Trust the La Jolla REALTOR® with extensive experience and proven results to help you find your perfect La Jolla home. Call Greg today at 858-551-3302 to book an appointment and rest easy knowing you're working with the best in the business.