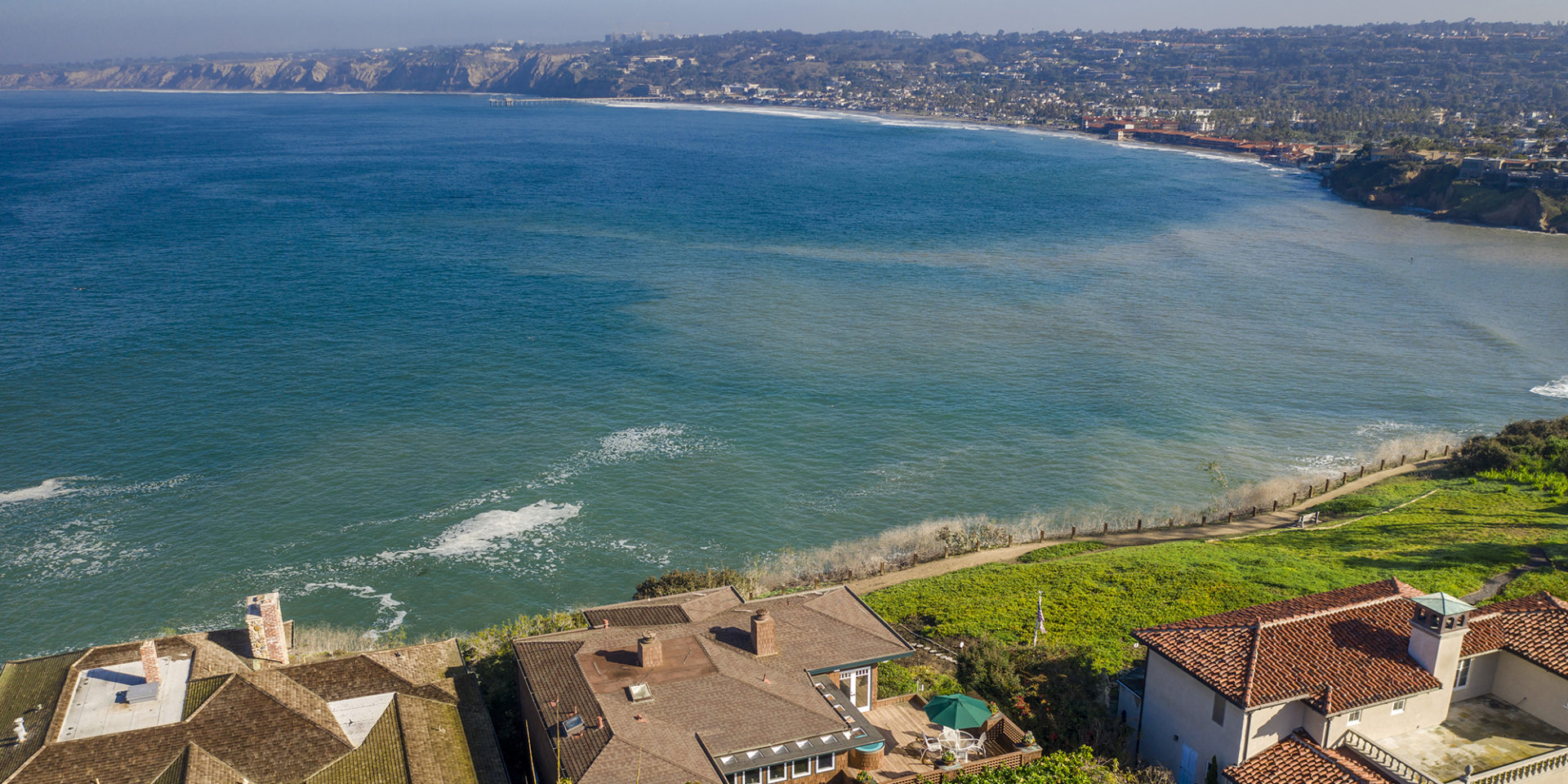 Known as the Jewel of San Diego, La Jolla real estate is an increasingly hot commodity in the highly competitive market of southern California. Single-family detached homes and condominium units are popular, depending on your specific needs and lifestyle. Expect to pay anywhere from $500,000 for a well-positioned condo, up to several million dollars for La Jolla homes including oceanfront property. As a general rule, the more spectacular the views, the pricier the property is likely to be.
More than a dozen distinct neighborhoods make up La Jolla, and a highly experienced La Jolla REALTOR® like Greg Noonan will assist you in exploring each area to determine your most suitable match. Neighborhoods vary with regards to price, exclusivity, access to freeways and shopping, and views, and a trusted REALTOR® such as Greg Noonan will guide you to the most appropriate La Jolla homes for your specific style, requirements and budget. On average, La Jolla homes for sale are valued at approximately $1.2 million, but prices vary widely based on location, neighborhood and views.
Ideal for active outdoor living, La Jolla real estate offers a variety of architectural styles, ranging from ranch to Spanish to beach cottage to contemporary. Whether you're searching for a home for yourself or your family, you'll find an abundance of entertainment and recreational activities in La Jolla at your fingertips, including beaches, water sports, golf courses, hiking and fabulous day trips, yours for the taking.
La Jolla is conveniently located just 15 miles from downtown San Diego, yet far from the hustle and bustle of metropolitan living. Enjoy easy access to the amenities found in San Diego, or take advantage of the many fine dining establishments and specialty shops located within La Jolla. Country clubs, art galleries, beaches and more are literally in the same neighborhood as a number of fabulous La Jolla homes for sale. The scenery in La Jolla is truly unbeatable, with lush tropical foliage, breathtaking ocean views, sprawling beachfront estates, stunning mountain and hillside landscapes, and panoramic vistas including the twinkling city lights of nearby San Diego.
Besides being one of the most affluent communities in the U.S., La Jolla is also home to cultural centers such as The La Jolla Playhouse, the Stephen Birch Aquarium and Museum, and the Contemporary Museum of Art. La Jolla homes are just a stone's throw from the Scripps Institution of Oceanography and the University of California, San Diego. It's no wonder La Jolla has inspired countless artistic creations by famous artists, writers and photographers.
If you're thinking a move to gorgeous La Jolla means a long daily commute, think again. Besides being located a mere 15 miles from downtown San Diego, La Jolla boasts a number of significant companies of its own. A number of software and bio-tech companies are located in La Jolla and are considered major employers in the area, offering hassle-free commutes to La Jolla residents.
Plus, imagine your delight as you escape the hectic pace of a busy workday by relaxing in your own private heaven — a meticulously manicured lawn complete with elaborate landscaping and sweeping tropical foliage. Owning La Jolla real estate is like living on vacation, as you whisk yourself to the beach at the slightest whim and resist the urge to call in sick to work on a weekly basis.
In addition to its convenient location, thriving economy and beautiful surroundings, La Jolla experiences some of the most fabulous weather available. Luxuriously sunny days and a balmy climate mesh with a cool breeze drifting in from the Pacific Ocean to create truly idyllic year-round weather conditions. Once you've experienced the magnificent thrill of owning La Jolla real estate, you simply won't settle for living anywhere else on earth.
La Jolla homes for sale are primarily three- and four-bedroom homes with two bathrooms. Naturally, luxury estates offer significantly more square footage set on larger properties, and privacy is available in many high-end homes. La Jolla condominiums generally offer two bedrooms and one and a half bathrooms, which are great for smaller families, young couples and roommates. Marvelous neighborhoods can be found throughout La Jolla, and many condos are situated in outstanding neighborhoods, offering walking access to a number of local amenities.
Few REALTOR®s possess the profound expertise that Greg Noonan brings to the table. With nearly 30 years of experience in La Jolla real estate, Greg has been nationally recognized as one of the best in the business. Prudential Real Estate is proud to acknowledge Greg as one of the prestigious company's top 20 agents since 1997, with more than $1 billion in sales. One consultation with Greg Noonan and you'll understand why he was voted Best La Jolla REALTOR® two years in a row.
Greg Noonan has extensive experience with La Jolla homes, including luxury properties, investment purchases and oceanfront residences. No matter what kind of La Jolla real estate you're in the market for, Greg's professional service is second-to-none. His vast knowledge of property values and market trends will assist you in finding a sound purchase, negotiating an equitable and attractive price and personally ensuring a smooth and efficient real estate transaction.
More than just a La Jolla REALTOR® and Broker, Greg is personally a resident of southern California , as well as a consistent contributor to and participant of a variety of local charitable organizations. Don't trust this important process to a rookie; choose the number one Prudential California Realty agent Greg Noonan as your La Jolla REALTOR®. To book an appointment at your convenience, call Greg today at 858-551-3302.