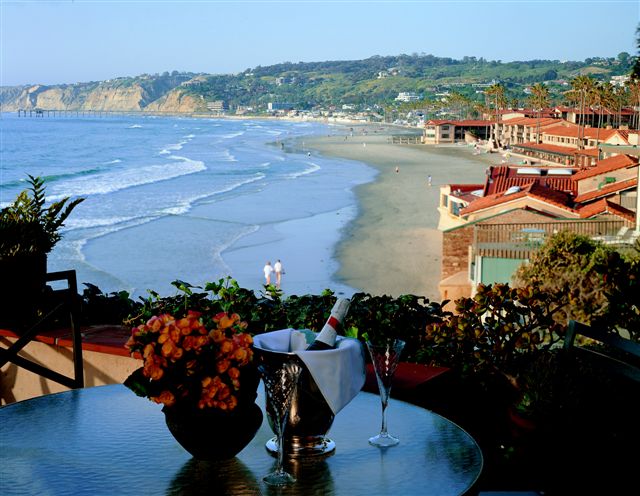 La Jolla Shores is a dream vacation destination with its broad beach, charming restaurants and shops, and endless recreational activities, and those who live here year round live vacation every day.  Whether you prefer diving, swimming, boogie-boarding, surfing, running, a kayak fishing trip or just avid people-watching, La Jolla Shores has it all.
From the Village, Princess Street and Spindrift Drive, (with its high end oceanfront homes looking straight into and over the waves,) lead into "The Shores, " with The Marine Room restaurant providing a spectacular high tide experience from breakfast to dinner, especially during a winter storm. Renowned Chef Bernard Guillas knows how to please on the culinary side as well.
Just past the Marine Room, Spindrift Drive turns into Paseo Dorado,where  the La Jolla Beach & Tennis Club offers public hotel guests and private members a "grandfathered-in" private beach haven with complimentary beach loungers and towels, where you can order lunch on the sand. You are also allowed alcoholic beverages on this beach, which is illegal at public beaches. The "Beach Club," as it's called, also offers the option of barbecuing dinner on the beach after 5:00 PM, either on a large shared grill or on your own, where the "red shirt" beach services staff will set up your tables, chairs, utensils, and Weber kettle. Or have dinner at the poolside courtesy of The Dining Room, which also offers sea view dining and bar indoors. If tennis or golf are your sports, The Beach Club has those, too, as well as hosting major tennis tournaments each year.

While you are on the beach at La Jolla Beach & Tennis Club, look south on the cliff to the home that looks like a
On your way to Avenida de la Playa, the center of "Shores Village," you might pass our immaculate vacation rentals on Paseo del Ocaso, two vacation cottages offering two bedrooms, two baths each, perfect for a family of four or two couples. The cottages are mid-century in architectural style and five-star in quality, with luxury bedding and linens and beautiful private patios with large ceramic firebowls. Located on a quieter residential street and protected by an office building across the way, the cottages are just 1/2 block to restaurants, shops, and rentals and about two-and-a-half short blocks to the beach. While the existence of vacation rentals is controversial in many neighborhoods, our neighbors regularly rent the cottages for visiting family.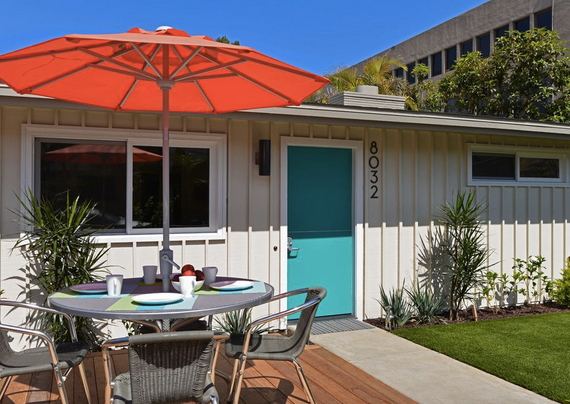 Avenida de la Playa is the center of "Shores Village," and offers many restaurants, surf shops, and kayak, bike, and surf board rentals. We can highly recommend most restaurants in this area, but we have a special place in our hearts for Barbarella, owned by our friend, Barbara Beltaire, the always delicious Piatti, and the neighborhood favorite, Osteria Romantica. If Mexican food is your pleasure, as it is mine, definitely try Galaxy Taco, where everything, (including tortillas,) is freshly made. (The only dish I'm not crazy for is the chicken enchilada.) Galaxy Taco is the creation of George's Chef Trey Foshee, a much beloved figure in the local culinary scene.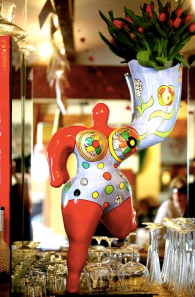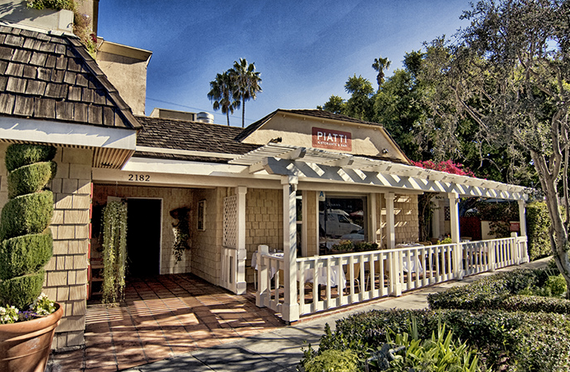 Just north of the center of The Shores you will find the seaside Kellogg and La Jolla Shores Beach Parks, with their vast lawns and children's playground by the beach.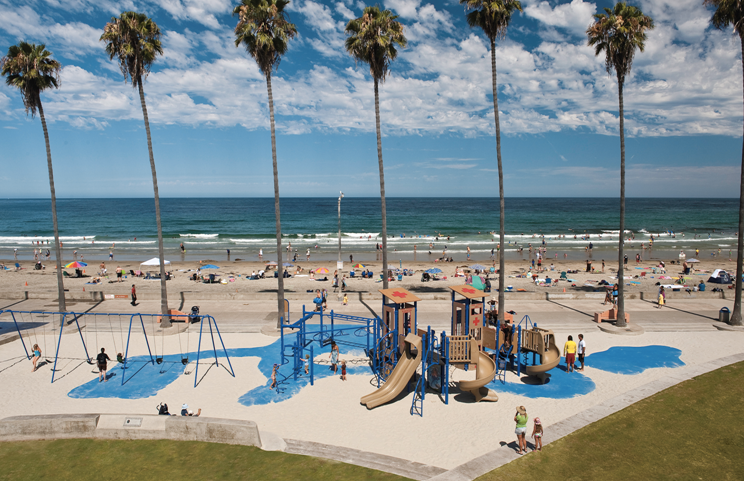 Walk north from the park and La Jolla Shores Beach to the pier and UCSD Scripps Institute of Oceanography campus' Seaside Forum for lunch at Caroline's, a casual eatery with delicious food and endless views.  Scripps Institute is known not only for its ground-breaking oceanographic and climate research but for the aesthetic richness of its architecture.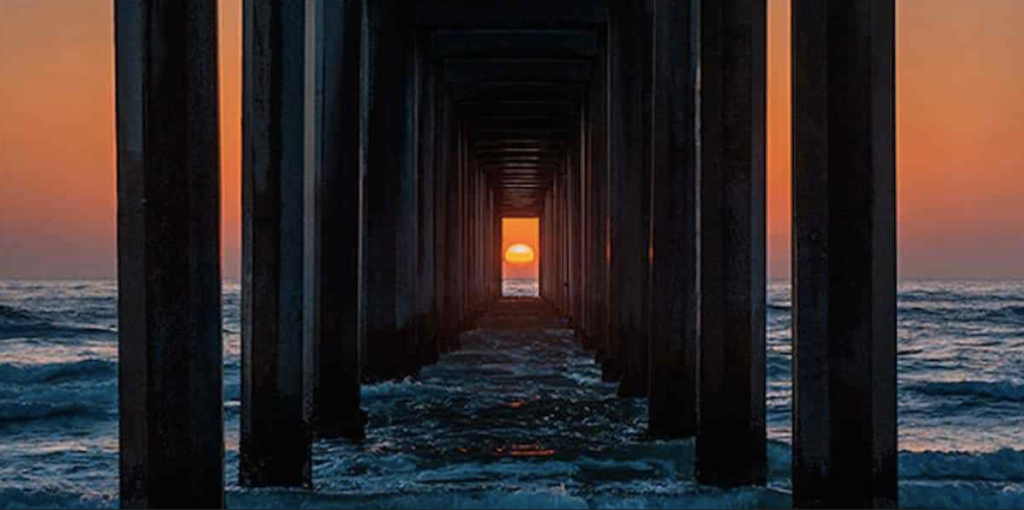 Birch Aquarium, just up the hill above SIO, offers a lovely spot for a morning or afternoon as well as many classes and adventure programs for students of all ages.

Most residential streets in La Jolla Shores are quite serene and our clients who live here absolutely love the easy, relaxed beach vibe of the area. We have several La Jolla Shores homes available, so please call anytime for your confidential tour of available properties.
We look forward to introducing you to one of our favorite neighborhoods, La Jolla Shores.